McKinley Park Residences - LOCATION
McKinley Park Residences is located at 31st St. & 3rd Ave.,Taguig City.

The location of McKinley Park Residences will easily stand out as one of the best reasons to invest in a unit at this condominium tower. This 49-storey residential tower is located in 3rd Avenue corner 31st Street in Fort Bonifacio Global City, Taguig, Metro Manila. The mere mention of Bonifacio Global City will instantly capture the attention of interested investors or property buyers. It is a central location and one of the most enviable addresses in Metro Manila. It is an area known for its commercial and financial activity; hence, finding a place of residence near the area will put you right at the heart of that action.
Fort Bonifacio Global City serves as the main financial district of Metro Manila. Before it was developed into the financial and commercial hub that it is now known for, it is the site of the main Philippine Army Camp. This is where the name Fort Bonifacio was derived from. It was in 1995 when the initial planning and conceptualization was done to turn this area into a major urban development center. Bonifacio Global City is located in between two major thoroughfares in Metro Manila: C-5 Road and EDSA. Aside from the McKinley Park Residences, there are several other condominiums within the area, along with corporate office buildings like Bonifacio Technology Center and Net One.
Bonifacio High Street serves as the central core of the Bonifacio Global City. This is where you will find all the retail, entertainment and dining opportunities in one place. This area is also filled with pedestrian-friendly roads and walkways, retail outlets, and high-tech offices. The plan for this part of the BGC is to make it easy to navigate even for pedestrians. The retail promenade is easy to identify as it is filled with many landscaped areas.
Hence, the location of McKinley Park Residences within Bonifacio Global City makes it a coveted residential condo. It is ideal for the younger crowd who wants easy access to the hip destinations in Bonifacio Global City or any nearby areas. If you want to do some shopping, you can therefore head to Bonifacio High Street to satisfy your retail urges. Apart from Bonifacio High Street, there are also several notable shopping centers that are within a few minutes away from McKinley Park Residences. A few of your options include Market! Market!, SM Aura Premier, and Venice Grand Canal Mall.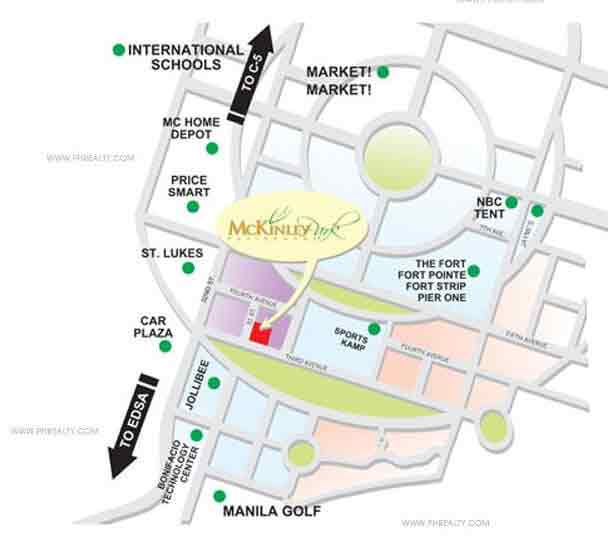 For your health and education needs, there are centers and facilities nearby to satisfy your needs. For example, St. Luke's Medical Center (one of the best medical facilities in the Philippines) has a hospital operation within Bonifacio Global City. In addition to that, there are also several academic institutions nearby. For families residing at McKinley Park Residences, you can also find notable academic institutions within the area to send your kids to. For example, there are two prominent universities operating nearby: University of the Philippines and De la Salle University. Other schools to choose from include British School Manila, STI College, Leaders International Christian School of Manila, and Everest Academy Manila, to name a few.